Home

Plantpedia

Search Results

Ludwigia palustris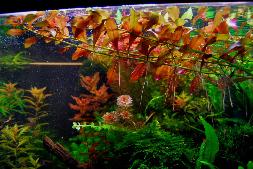 Description
Background History
Ludwigia palustris is a native to North America, where it can be found in the southern wetland regions of the state of Missouri. This plant grows naturally in swamps, wetlands, ditches, near shallow slow-flowing water ways and ponds. Ludwigia palustris remains a common plant to the hobby and makes a perfect plant for a beginner/intermediate aquatic plant hobbyist.
Growth Characteristics
Ludwigia palustris has pointed bight green oval leaves that will develop a pinkish tone on its leaves which are closest to the surface. It has a moderate growth rate defined by approximately one inch (2 cm) of weekly growth. This is a relatively easy and undemanding plant to grow as long as there is plenty of light to allow the leaves to photosynthesize.
Ludwigia palustris can be prorogated through side shoots. To trim, aquascapers will divide each stem and replant the healthier tops and side shoots. Like other stem plants, a busy effect can be achieved by cutting just ¾ way down the stem, above the internode (point where leaves attach), and allowing the side shoots to grow out.
Aquascaping Application
Ludwigia palustris is an ideal midground and background plant for an aquascape. The round leaves can contrast well with grassy foregrounds, or more straight leaf plants. The distinctive pinkish leaves will serve as an attractive element to any aquascape, particularly Dutch influenced aquascapes.
Photo Credit: Alex Korakis
Plant Profile
Scientific Name:
Ludwigia palustris
Common Name:
Water Primrose
CO2 Requirements:
Moderate
Lighting Requirements:
Medium
Plant Arrangement:
Background
Water Hardness:
Medium (GH = 9-13 dH)