Home

Plantpedia

Search Results

Hemianthus callitrichoides
Hemianthus callitrichoides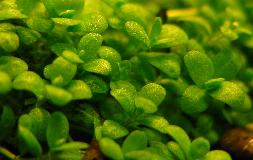 Description
Background History
Hemianthus callitrichoides is a native of Cuba and is the smallest foreground plant species available to the hobby. It is found mixed among the riparian vegetation of high flowing streams and rivers in Havana, Cuba. This plant was first introduced to aquascapers in the early 2000s. In less than ten years since it first made its mark in the planted aquarium hobby, Hemianthus callitrichoides is now a common and highly desired plant for aquascapers. The small leaves, dense, low growth, and medium growth rate established this plant as an easy to grow foreground plant alternative to the much faster growth and high maintenance of Glossostigma elatinoides.
Aquatic plant enthusiasts may refer to Hemianthus callitrichoides as HC, dwarf baby tears, or HC Cuba.
Growth Characteristics
Hemianthus callitrichoides is considered a high light plant, but can adapt to medium light conditions. The plant spreads by extending shoots underneath the substrate and growing horizontally. When provided with ample light, Hemianthus callitrichoides will grow into a compact foreground about one inch (2-3 cm) tall with bright green leaves.
Emersed growth of Hemianthus callitrichoides will look similar to its submerse grown leaves, but flowers will bloom when this plant is grown emersed.
As mentioned before, high light is not necessarily required to grow this plant successfully in an aquarium. Plentiful light, dissolved carbon dioxide (or liquid supplement), and a nutrient rich substrate will yield best growing results.
Aquascaping Application
Hemianthus callitrichoides is a foreground plant that will fit almost any aquarium. Aquascapers prefer this plant over others because of the slower growth and less trimming required.
To plant Hemianthus callitrichoides cut a larger portion into smaller three to five stem bunches. Plant these bunches approximately one-half (1 cm) apart. Using a curved tweezer may help in the planting process.
Hemianthus callitrichoides looks great in an Iwagumi style layout, but its applications as a foreground plant is near limitless. It can be paired with larger plants such as Java Fern, or other foreground plants like Blyxa japonica, Riccia fluitians, dwarf hairgrass, or Echinodorus tenellus.
Plant Profile
Scientific Name:
Hemianthus callitrichoides
Common Name:
Hemianthus callitrichoides
CO2 Requirements:
Moderate
Lighting Requirements:
High
Plant Arrangement:
Foreground
Water Hardness:
Soft (GH = 4-8 dH)