Home

Plantpedia

Search Results

Ludwigia sedoides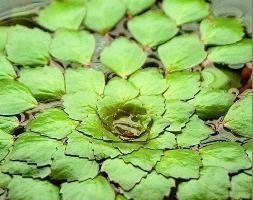 Description
Background History
Ludwigia sedoides is a wonderful floating plant that typically is found utilized in ponds, but it has found its way into some aquascapes. Natural growing in slow flower, and standing waters of Brazil and Venezuela, this plant displays a beautiful green and red coloration on its leaves. It was originally exported and cultivated in 1950s, and was officially classified as Ludwigia sedoides in the 1980s.
Ludwigia sedoides is commonly known as Mosaic plant.
Growth Characteristics
Ludwigia sedoides is an undemanding plant that thrives in an abundance of light. It remains free floating with long roots (up to four feet long).
Under high light it will produce a beautiful 2 inch (5 cm) four-petal flower that looks striking against its diamond-shaped mosaic green leaves. These leaves are generally green, but its older leaves have the tendency to turn red.
As a free floating plant, the patterns of leaves shift and contract depending on the lighting conditions. This is especially noticeable during the day when each leaf is spaced evenly apart with small gaps in between. At night, the plant will tighten together and the leaves begin overlapping to form a beautiful shingled mat.
Aquascaping Application
Ludwigia sedoides, like most floating plants, is not an ideal plant to aquascape in the aquarium. However, it is a beautiful aquatic plant to try or keep in an outdoor pond, where it will thrive under the natural sunlight.
Photo Credit: Aquaspot World

Plant Profile
Scientific Name:
Ludwigia sedoides
Common Name:
Mosaic Plant
Lighting Requirements:
Medium
Plant Arrangement:
Variable
Water Hardness:
Medium (GH = 9-13 dH)