Home

Plantpedia

Search Results

Pogostemon stellatus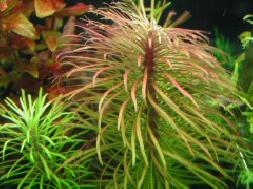 Description
Background History
Pogostemon stellatus (formerly called Eusteralis stellata) is a stunning aquarium plant known for its pink and reddish leaves. Originating in the waterways of Austrialia and Asia, specifically in Japan, Taiwan, and China, this aquatic plant is a popular plant species for Dutch style aquascapes where colorful plants are highly desired. This is a challenge plant for aquatic plant hobbyists.
Pogostemon stellatus may also be referred to as Eusteralis stellata, its former name, or Austrian Hygro
Growth Characteristics
Pogostemon stellatus will take on a range of characteristics depending on the environmental conditions it inhabits. This plant contains a thick stem that can reach a height of 6-10 inches (12-25 cm). From bottom to top, the 1-2 inch long (2 cm) leaves will turn from a bright green to a pink/red hue as it nears the surface.
Pogostemon stellatus requires a nutrient rich substrate, carbon dioxide injection, and a regular exposure to micronutrients, especially iron. It is a difficult plant that requires high lighting to grow without stunting or losing its bottom leaves.
Pogostemon stellatus does best in soft water; however it can grow in harder water conditions. Stunting may occur if the water is too hard or not enough light or nutrients.
Propagation is through cutting the stem in half and replanting the top. Side shoots will develop from the remaining bottom if left in the substrate.
Aquascaping Potential
Pogostemon stellatus is a dominant, colorful plant that is best planted in small groups of 3-5 stems. It can be placed in the midground or background areas of the aquarium. The color and size of the plant makes it a favorite species to use in Dutch influenced aquariums.
To encourage bushy growth, split a healthy stem in half, and leave the remaining bottoms. Repeat this process on the emerging side shoots until plant growth is dense.


Photo Credit: Jose A. Flores
Plant Profile
Scientific Name:
Pogostemon stellatus
Common Name:
Pogostemon stellatus/Eusteralis
Lighting Requirements:
High
Plant Arrangement:
Background
Water Hardness:
Soft (GH = 4-8 dH)