Home

Plantpedia

Search Results

Rotala wallichii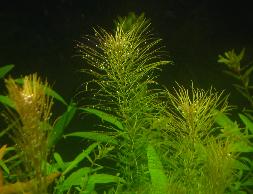 Description
Background
Rotala walllichii is another magnificent Rotala species that shares similar characteristics as its cousins; Rotala 'Vietnam' and Rotala hippuris. Named after the Danish botanist Nathanial Wallich who found this plant in the moist tropics of Southeast asia in the early 1880s, this plant displays a wonderful whorls of pinks, yellows and greens in the aquarium.
Growth Characteristics
The growth characteristics of Rotala walllichii vary dramatically depending on what type of underwater environment it is cultivated in. Under moderate light, Rotala walllichii will remain a dull green and leaf whorls will be widely spaced out.
Under high lighting, carbon dioxide inject, and sufficient water column fertilization of micronutrients and iron, this plant will demonstrate the most beautiful pink and yellow hues ever seen in a planted aquarium.
Rotala walllichii prefers softer water and a pH between 6.4-6.8.

Propagation is like any other stem plant. This plant produces several side shoots that can be trimmed and replanted. The healthy tops can be cut off and replanted to display the best portions of the plant. Bottoms can either be discarded or left to produce a bushy look when paired together with multiple cut stems.
Aquascaping Potential
Rotala walllichii is a great midground plant or a background plant. In either location, it is remarkable in groups of 5 to 7 stems. It is often placed in the midground area, and trimmed in a tiered fashion to allow the different stem lengths to provide an illusion of depth.


Plant Profile
Scientific Name:
Rotala wallichii
Common Name:
Rotala wallichii
CO2 Requirements:
Moderate
Lighting Requirements:
High
Plant Arrangement:
Midground
Water Hardness:
Soft (GH = 4-8 dH)