Written by Editorial Staff
Earlier in the Fall 2010, the Aqua Design Amano (ADA) company released the results of its International Aquatic Plant Layout Contest (IAPLC) 2010 results. The IAPLC is the largest planted aquarium aquascaping contest in the world and is traditionally known for setting the creativity bar for aquascapers.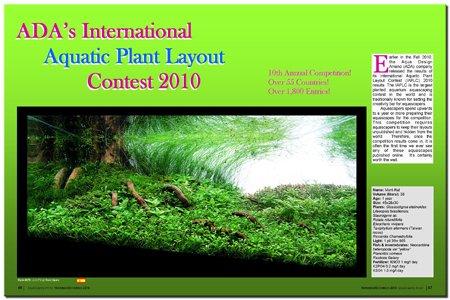 Aquascapers spend upwards to a year or more preparing their aquascapes for the competition. This competition requires aquascapers to keep their layouts unpublished and hidden from the world. Therefore, once the competition results come in, it is often the first time we ever see any of these aquascapes published online. It's certainly worth the wait.
This year marks the 10th anniversary of the competition. With the growing popularity of aquascaping around the world, the IAPLC received over 1,800 entries from over 55 countries, a new record high for the contest.
Now you may be wondering what's the draw for aquascapers participating in this competition? Well ADA offers its Grand Winner 1,000,000 Japanese Yen, (approximately $10,000 USD). Yet besides that, ADA provides aquascapers to gain recognition for their works of art. For most aquascapes, this competition offers them a chance to see where they rank among thousands around the world.

Each year when the results are released there is a buzz in the forum communities, like AquaScaping World, where members proudly showcase their aquascapes and their final results.
To be among the TOP 10, 100, or even 1000 is a high honor for many aquascapers.
In the 2010 IAPLC, this year we saw many of the TOP aquascapes mimicking "mountain scapes" and executing highly intricate variations of the "Nature Aquarium Style". These aquascapes featured moss covered driftwood or a rock hardscape shooting outwards into all depths of the aquarium naturally and majestically.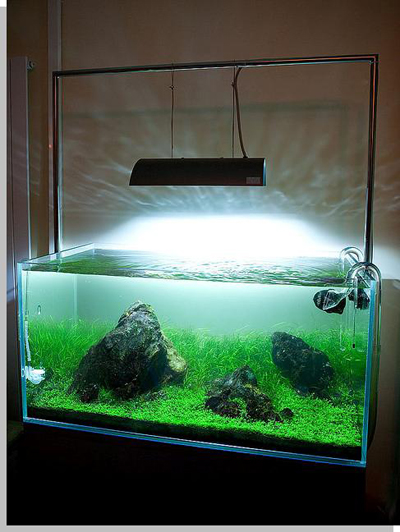 The Grand Prize winner, Pavel Bautin from Russia created an aquascape reminiscent of view from the middle of a woody forest during Spring. Tall towering trunks sprouting from a field of Glossostigma elatinoides were strategically placed to provide an endless sense of depth and vastness.
On the AquaScaping World Forums, you can see aquascapes posted from the international community and their rankings. ADA will be producing a competition book that is available for purchase, with most of the entered aquascapes.
The top aquascapers in the competition will be recognized at the Nature Aquarium Party held in Niigata at ADA's headquarters this October. It is a perfect ending to a outstanding class of aquascapes that were produced this year.
For the full list of winners visit the ADA website (http://en.iaplc.com) and browse the AquaScaping World forums for a look at some of the aquascapes entered into this year's contest.
References:
Photos credit to respective authors
http://en.iaplc.com