Neocaridina denticulata sinensis 'red'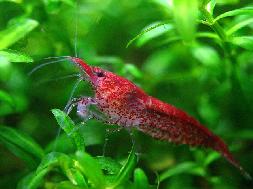 Description
Neocaridina denticulata sinensis "red" is quite possibly the most favorite beginner shrimp among shrimp keepers and planted aquarium hobbyists. Not only do they look great in contrast to green aquatic plants, but they also make a fantastic maintenance/algae eating crew for any aquarium. Neocaridina denticulata sinensis "red" is commonly known as the Red Cherry Shrimp and is widely available at local fish stores and through online trading.
Origins
Neocaridina denticulata sinensis "red" can be found in its natural dark grey/brown colors in riverbeds of Taiwan, China, and Vietnam. In the early 1980s, Neocaridina denticulata sinensis "red" were fished out of the Taiwanese waterways and selectively bred for their rich red coloration. From specialized hobby insider trading, Neocaridinadenticulata sinensis "red" quickly became available in large numbers all over the world by the late 1990s.
General Care
Neocaridina denticulata sinensis "red" is a very peaceful and charismatic inhabitant for an aquarium. They will swim, walk, and crawl on almost every part of your aquarium. They are very tolerant of water conditions and temperatures. They thrive when nitrate levels in the water are near zero, and twhen he water temperature is approximately 72-77 degrees. They are known scavengers and will feed on anything from fish flakes, algae wafers and pellets. In good numbers (10 shrimp per 10 gallon) they do well at keeping algae at a minimum, and will also eat fallen plant leaves.
Males Red Cherry shrimp are drastically lighter in red pigment then their female counterparts. Females will develop a rich red hue as they mature. The red coloration of the shrimp is largely dependant on the environment; darker substrates, good water quality, and hiding spaces will make the shrimp more comfortable. As the Neocaridina denticulata sinensis "red" grows and develops, they will shed or molt their outer skin (chitin carapace) and reconsume it for the precious minerals.
They are compatible with fish and other shrimp species. However the general rule of thumb to follow is: if it can fit in a fish's mouth, then they will get eaten. Therefore, baby shrimp are highly susceptible to being eaten by fish mates, so lots of plant cover and hiding places are recommended to ensure their survival.
Breeding
Neocaridina denticulata sinensis "red" is extremely easy to breed and practically procreate on their own. An adult female (approximately half-inch) will developed ovaries that resemble a yellow saddle on its back. Within a month's time, the ovaries will drop and form eggs. These yellow eggs are held underneath the female shrimp in its swimmeret's. 25-30 days later the clutch of eggs will hatch into miniature versions of the adult Red Cherry Shrimp. It will take approximately two months for the baby shrimp to reach sexual development.
Neocaridina denticulata sinensis "red" will interbreed with other members of its genus the Neocaridina.
Photo Credit: Jose Luis
Invert Profile
Scientific Name:
Neocaridina denticulata sinensis 'red'
Common Name:
Red Cherry Shrimp
Algae Eating Potential:
Occasional Algae Eater
Maximum Size:
1.5 - 2.0 inches
Reproductive Behavior:
Larval hatchings (miniature adults)
Water Temperature:
71-74 degrees
Water Hardness:
Medium (GH = 9-13 dH)