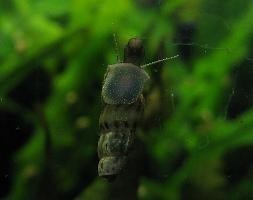 Description
The Malaysian Trumpet Snail (Melanoides tuberculata) is a decomposer that feeds off aquarium detritus, plant leaves, and leftover food. They are composed of a unique spiral shape outer shell that allows them to burrow underneath the surface of the substrate. This hard shell grows to less than one inch long and protects them from most predators. Like their name, these snails originate from the Malaysian waterways and often find their way into aquariums by hitching on new plants or decorations.
Malaysian Trumpet Snails are not considered a "pest snail species" by many planted aquarium hobbyists because they will often stay burrowed in the substrate. The snails will appear in large numbers when there is a presence of food in the aquarium, or when the tank lights are out. Their burrowing behavior helps turn over the top layer of the substrate to eliminate anaerobic pockets. Malaysian Trumpet Snails will only feed on roots and leaves of aquatic plants when there is an absense of food. If you notice these snails climbing near the top of your aquarium, then it may be time to perform a water change.
Unlike most snails, the Malaysian Trumpet Snail does not reproduce via eggs. They are live-bearing snail species that thrive in hard-alkaline water and no predators. If left unchecked, the Malaysian Trumpet Snail has the ability to grow wildly out of control. In that case, remedial action must occur by introducing predator species such as the Clown Loach (Botia macracanthus) , or puffer fish varieties. Even the Clown Loach may have a hard time against the hard shell of the snail. In that case, turning off the filter and netting the ones that climb to the outer edges of the tank will help reduce their numbers.
Remember, Malaysian Trumpet Snails are a very hardy species. It is important to not overfeed an aquarium so they do not get out of hand. They can be very difficult to remove from an aquarium, so much in fact that drying out an aquarium and starting over weeks later may not help.
The Malaysian trumpet snail is also called the Rimmed Snail, Malaysian Live bearing Snails, or MTS for short.
Photo Credit: Leanna Brezina
Invert Profile
Scientific Name:
Melanoides tuberculata
Common Name:
Malaysian Trumpet Snail
Algae Eating Potential:
Occasional Algae Eater
Maximum Size:
1.0 -1.5 inches
Reproductive Behavior:
Larval hatchings (miniature adults)
Water Temperature:
71-74 degrees
Water Hardness:
Medium (GH = 9-13 dH)