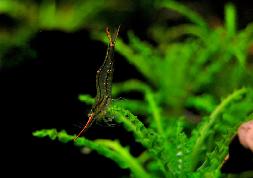 Description
One of the most common and bizarre looking shrimp species available in the trade.

The red pointy nose, makes this shrimp funny-looking and unique and it is impossible to mistake it with other shrimps.

The body is mostly transparent with some colourful markings.
Females tend to be a little bigger, but in this species it is very difficult to distiquish the genders.
Red nose shirmp are not shy and like to swim aroudn the tank more often than any other shrimp species.
This shrimp can tolerate a wide range of water conditions, from slightly acidic to slightly brackish waters, but it is best to keep this species in harder, more alkaline waters with a pH range of 6.5-7.8.
Their lifespan is in most occasions no more than 6-8 months since we buy them, and this is a negative factor, considered that they will not breed successfully in a fresh water tank.

This shrimp feels at home in heavily planted tanks and will help, when kept in numbers, by controlling some algae. It is known that this is the only shrimp species to eat the black bearded algae and the green tufted algae.

Sometimes when they are hungry, they will eat some plants like stargrass and blyxa, but the little damage they do is not considered as a problem, and could be avoided by keeping them well fed.

Caridina gracilirostris is commonly refered to as the Red Nose Shrimp, Pinocchio shrimp, Rudolf shrimp, Rhino Shrimp, Rocket Shrimp, Red Striped Shrimp, or the Mosquito Shrimp

Photo and Description Credit: Alex Korakis

Invert Profile
Scientific Name:
Caridina gracilirostris
Common Name:
Red Nose Shrimp
Algae Eating Potential:
Occasional Algae Eater
Maximum Size:
Less than 1 inch
Reproductive Behavior:
Planktonic stages
Water Temperature:
68-71 degrees
Water Hardness:
Medium (GH = 9-13 dH)