Home

Gallery

Search Results

Shimmering Hills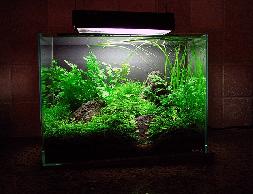 Description
One of the most interesting things about Shimmering Hills is the use of Boblitis heudelotii in such a small space. The three plants used have completely different leaf patterns and growing habits. This combined with the rocks gives the tank a lot of contrast, but also keeps it very blissful with just shades of green and stone.
The title of this planted aquarium, Shimmering Hills, was derived from the way the moss looks as it grows (and sometimes pearls) against the lava rocks.
Maintenance consists of 50% water change weekly. During the water change dry fertilizers and are introduced for macronutrients (NPK), while Liquid Seachem Flourish fulfils the micronutrient requirements.
Trimming is as needed for the moss and other plants. These are slow growing plants that require little maintenance.
Shimmering Hills was featured in the July 2008 issue of AquaScaping World Magazine.