Home

Gallery

Search Results

Picture From My Childhood
Picture From My Childhood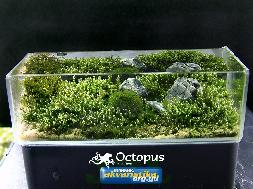 Description
Picture From My Childhood is a stunning "pico" aquascape that was inspired by a childhood memory of woodland field and a distant rock quarry.
"My friends and I used to play at that field that was mostly surrounded by woodland. Three huge rocks nearby the edge of the forest were hardly visible but they are still in my memory. When we were very young, these three rocks have had some mystical looks and some strange meaning for all of us."
Local rocks were collected for that exact location, and transformed into a three rock layout that reflects that childhood memory.
Quartz sand, granulation less than 0.5mm was placed at the bottom of the tank. Fine white sand together with appropriate small stones enable to tank appear significantly bigger.
Slow growth of plants is the thing of extremely high importance in such small tank. Three different leisurely development mosses were attached over the rocks. One of them was a local species that named Serbian mini-moss. Star moss and Fissidens moss made of the other two.
Regular daily water changes are very important to maintain a healthy miniature aquascape. Stable water parameters and balanced nutrient water from a larger planted aquarium was used to refill this aquascape when it evaporated and also during water changes.
Picture From My Childhood was featured in ASW"s June 2008 Aquascape of the Month.
Aquarium Profile
Title:
Picture From My Childhood
Aquarium Volume:
Pico (less than 1 liter)
Aquascaping Style:
Iwagumi
Artist :
Slobodan Lazarevic
Region of Origin :
Europe: Serbia
CO2 Injection Type:
No CO2
Lighting:
Ambient Lighting
Substrate:
Gravel/Small Rocks
Plant List
-
Fissidens fontanus
-
Tortula ruralis
- Serbian Mini Moss
Fauna List
- None