Home

Algaepedia

Search Results

Staghorn Algae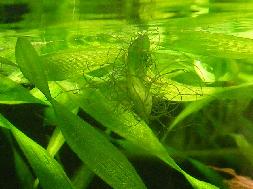 Description
Staghorn Algae (Compsopogon sp.) is a stubborn algae that attaches to the outer edges of leaves of slow going plants like Java Ferns, Anubias, Swords, and cryptocorynes species, but it can also be found on leaves of faster growing plants like Ludwigia sp. too. Staghorn Algae resemble other types of filamentous algae, but Staghorn strands are black/grey in color, about two to three inches long, and each course strand branches at least twice. Staghorn Algae generally grows in planted aquariums with an abundance of light and low dissolved carbon dioxide levels. For this reason, Staghorn is often found infecting leaves that are closest to the lighting source.
Removal Tips
Manual Removal
Manually remove by hand as much Staghorn algae as you can. You can also use a toothbrush by spinning it around the Staghorn strands like spaghetti to a fork. Trim infected leaves away from the plant. Remember to do a water change after you are done scrubbing your plants and equipment
Chemical Removal
Cleaning equipment and dipping plants in a bleach solution (2 parts bleach: 5 parts water) for 3-5 seconds will kill BBA as well. Some plants may not respond well to this treatment, so remember to test a plant stem before applying this method to the whole plant.
Adjusting Photoperiod
Staghorn Algae is a photosynthetic organism that benefits from high light and low CO2. Reducing the photoperiod will disrupt its growth. Minimum photoperiod should be around 7-8 hours of light.
Nutrients and Circulation
To keep Staghorn Algae from proliferating, you want to maintain a regular schedule of nutrient supplementation to your planted aquarium. Generally, most plant aquariums need at minimum 10 ppm of Nitrogen (N), 1 ppm of phosphorous (P), 10 ppm of Potassium (K), and 25 ppm of Carbon Dioxide.
Adjust filter water output, or add a powerhead to maximize circulation and distribution of nutrients in the tank.
Prevention
To prevent Staghorn algae from taking a foothold in your planted aquarium, remember to off your plants adequate amounts of light, coupled with the proper amount of nutrients and carbon dioxide. If you notice any Staghorn strands appearing, remove it immediately and begin adjusting your lighting.